When it comes to selecting the perfect color for braces, the options are abundant. One popular choice that often gets attention is teal. But is teal a suitable color for braces?
This article will explore the benefits and drawbacks of choosing teal as the color for braces and how it can complement various skin tones.
Braces are an essential orthodontic treatment for aligning teeth and correcting bite issues. While their primary function is to improve oral health, many people embrace the opportunity to personalize their braces by choosing unique colors. Teal, known for its calming and sophisticated appearance, often emerges as a popular choice.
When deciding on a braces color, individuals should consider their skin tone and preferences, as some shades may look better on different complexions.
For example, it is noted that teal can be a great color choice for people with dark skin tones, offering the wearer an attractive pop of color.
However, the suitability of teal braces will ultimately depend on the individual's aesthetic preferences and desired look.
Considering Teal Braces?
Teal braces are an increasingly popular choice for those looking to add some personality to their orthodontic treatment. This color, which is a mix of blue and green, can create a visually stunning effect on the teeth, offering both style and confidence to the wearer.
While choosing a braces color, it is essential to consider how it complements your skin tone and eye color. People with blue, green, or hazel eyes might find that teal orthodontic bands blend well with the natural colors of their eyes, while individuals with brown eyes may prefer a different shade to provide contrast or harmony.
In addition to the visual appeal, placing teal bands on your braces can help make your teeth appear whiter depending on their current shade. When contrasted with white teeth, the teal color can create a sleek, visually appealing effect that many people find desirable.
Here are some essential factors to consider when choosing teal bands for your braces:
Skin Tone: For those with fair skin, teal can be a flattering choice, adding a pop of color that works well with the natural undertones in their complexion. People with darker skin tones might also find that a brighter shade of teal complements their look effectively.
Personal Style: It's essential to choose a braces color that speaks to your personality and sense of style. If you're drawn to cooler colors and want a fashionable, unique look, then teal braces could be an excellent option.
Changing Colors: Keep in mind that you can change your braces' colors periodically, so if you're unsure about committing to teal, you can always try it out temporarily to see how it works for you.
In conclusion, teal braces are an exciting and stylish option for those wishing to add a splash of color to their orthodontic treatment. This shade has the potential to enhance the appearance of your smile and complement your skin tone, eye color, and personal style, making it a popular choice for many.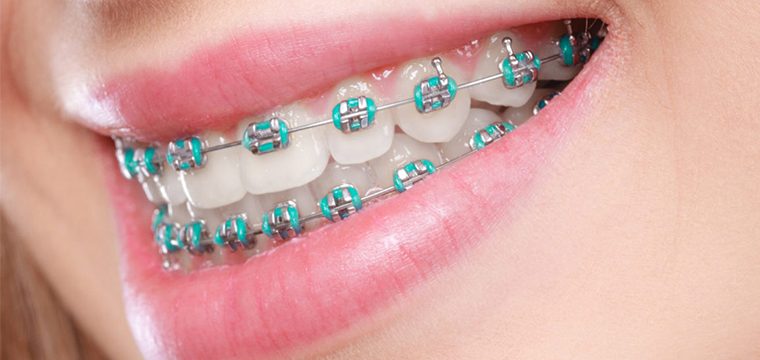 Aesthetic Appeal of Teal
Teal color braces can offer an attractive and trendy option when it comes to orthodontic treatment. The aesthetic appeal of teal braces is derived from its versatility in complementing a range of skin tones and matching various outfits and accessories.
Complementing Skin Tones
Teal braces can be an excellent choice for people with both light and dark skin tones. For individuals with darker skin tones, teal can create a bold contrast, enhancing the overall appearance of the braces. On the other hand, teal braces can also provide a subtle yet noticeable pop of color for those with lighter skin tones.
Matching Outfits and Accessories
One of the most significant advantages of opting for teal braces is how effortless it is to match them with various clothing colors and accessories. Teal can easily be coordinated with numerous shades, including:
Navy blue
White
Gray
Black
Beige
Yellow
This wide range of compatible hues makes it easy to create a cohesive and stylish look while wearing teal braces. Moreover, teal can be incorporated into a variety of accessories, such as earrings, necklaces, belts, and shoes, to accentuate and pull your outfit together.
Psychological Effects of Teal
Teal is a color that represents restfulness, mental and spiritual balance. This calm shade has a natural dignity that is neither contrived nor attention-seeking. Teal's understated elegance encourages a reflective and serene atmosphere, making it a suitable option for braces, as it can potentially have positive psychological effects on the wearer.
The color teal can influence a person's thought patterns and emotions. It has been found to encourage objective, analytical, and even deep thinking. By promoting introversion and reserved character traits, teal can create a calming or sedating influence. These qualities may help ease the wearer's discomfort or anxieties often associated with orthodontic treatments.
Moreover, teal has the potential to discourage erratic and spontaneous behaviors. The soothing nature of the color might reduce impulsive tendencies, which could lead to better self-discipline and oral hygiene maintenance in those with teal braces.
In terms of appearance, teal – a cool color – can create a unique and stylish look. For individuals seeking a neutral yet distinct braces color choice, teal can be an excellent option. Its subtle elegance can complement various eye colors and skin tones, without drawing unnecessary attention to the braces themselves.
Alternatives to Teal Braces
While teal is a trendy choice for braces, there are many other color options and alternatives available.
Popular Color Choices
Selecting the perfect color for your braces is a personal decision, and there are numerous colors to choose from. Here are some suggestions:
Complement your eye color: Green bands for brown eyes, blue or pink bands for blue eyes, and purple or orange bands for green eyes.
Match your favorite clothing colors or seasonal colors: Pastels for spring, bright colors and neons for summer, oranges and reds for fall, and dark blues and purples for winter.
Choose colors based on special occasions or festivities: Red and green for Christmas, black and orange for Halloween, or your favorite sports team's colors.
Stick to neutral, cool tones like navy blue or hunter green to brighten your teeth and avoid drawing too much attention to your braces.
Clear and Ceramic Braces
If you're not interested in colored braces, clear and ceramic braces are excellent alternatives that offer a more discreet look.
Clear braces are similar to traditional braces, but they use clear brackets, which blend in with the natural color of your teeth. This makes them less noticeable than colored brackets.
Ceramic braces, on the other hand, are made of a tooth-colored ceramic material that mimics the appearance of your teeth. Like clear braces, they offer a more discreet option for orthodontic treatment.
Ultimately, the choice of braces color or type is up to personal preference and treatment needs. Consult with your orthodontist to find the best option for you.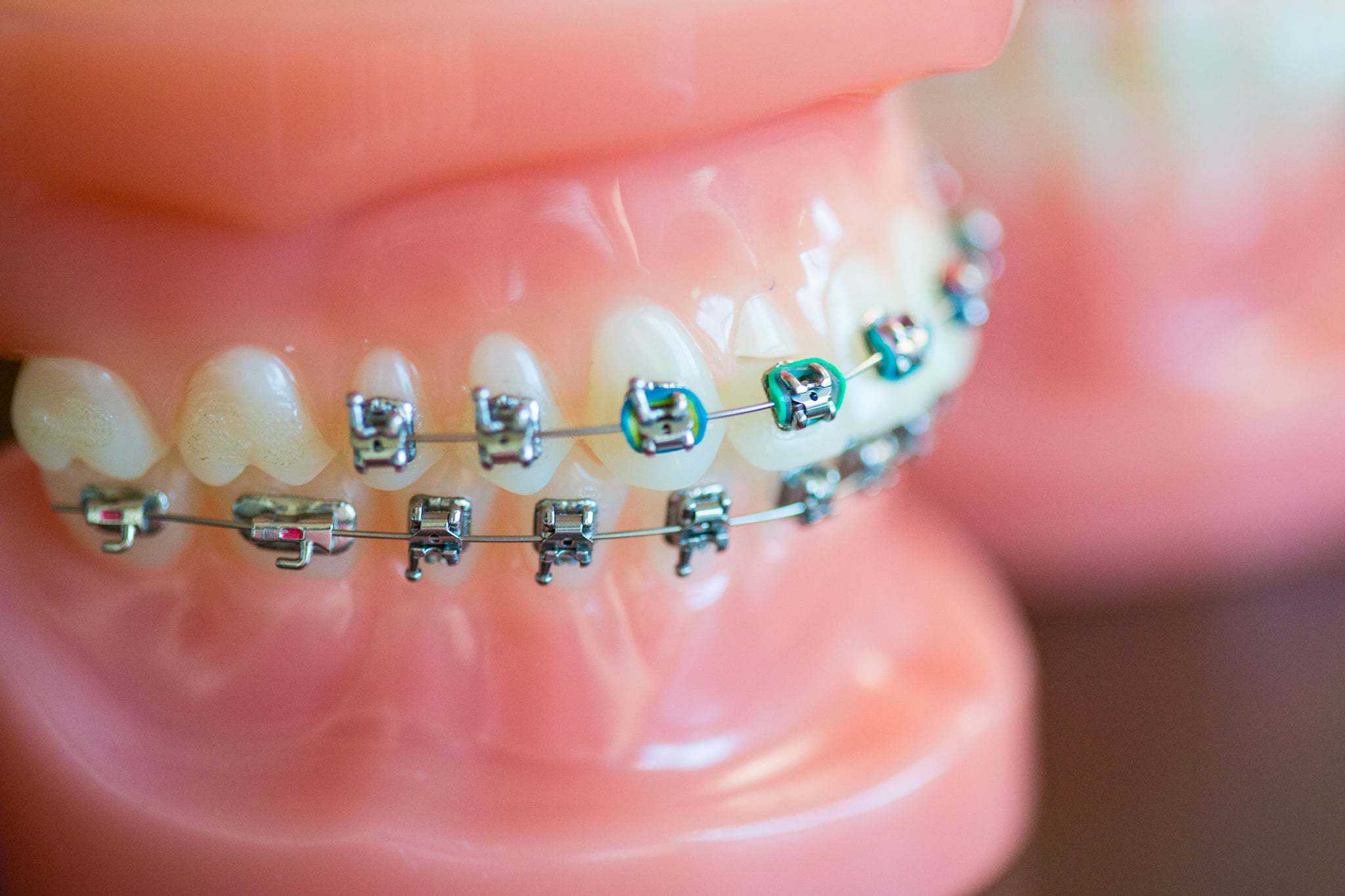 Maintaining Teal Braces
Choosing teal as a braces color can be an attractive and unique option for many individuals. To keep your teal braces looking their best, it's essential to maintain good oral hygiene and care for your braces properly. This section will cover cleaning and care, as well as adjustments and replacements.
Cleaning and Care
Maintaining a healthy oral hygiene routine is crucial for everyone, but it becomes especially important when you have braces. Make sure to brush your teeth at least twice a day, using a soft-bristled toothbrush and fluoride toothpaste. Clean around the brackets and wires carefully to remove food debris and avoid staining the teal bands.
Flossing daily is equally important. Using a floss threader or an interdental brush can simplify the process and allow you to clean between your teeth and around the braces with ease.
Finally, it's essential to avoid foods and drinks that can stain your teeth and braces. Stay away from dark-colored beverages like coffee, tea, and red wine. Also, try to minimize the consumption of stain-causing foods like berries, colored candies, and tomato-based sauces.
Adjustments and Replacements
Throughout your orthodontic treatment, periodic adjustments will be necessary to ensure your teeth align properly. During these appointments, your orthodontist may replace the teal bands on your braces. Don't be alarmed if their color appears to fade over time; this is normal, and the bands will be replaced with new, vibrant teal bands during your adjustments.
In the event that your brackets, wires, or bands are damaged, it's essential to visit your orthodontist as soon as possible. They can replace the broken components and make sure your treatment progresses effectively.
By following these guidelines, you can maintain your teal braces' appearance and promote a healthy, beautiful smile throughout your orthodontic treatment.
Conclusion
In conclusion, teal is a versatile and attractive color for braces that can complement various skin tones and personal styles. For individuals seeking a pop of color that will enhance their appearance, teal braces are an excellent choice.
When selecting braces colors, it is essential to consider factors such as your skin tone, personal preferences, and desired aesthetic. Additionally, remember to consult with your dentist or orthodontist for guidance and to explore all available color options. Don't hesitate to try different color combinations and express your unique personality through your braces journey.
Taking the time to thoughtfully choose the color of your braces can help boost your confidence and make the orthodontic treatment process more enjoyable. So, don't be afraid to embrace teal braces, as they might be the perfect fit for you.